VISA® Check Cards from Southern Bank
Twice the security. Double the peace of mind.
Our cards can be used at any Southern Bank ATM in North Carolina, Virginia, and at any ATM around the world that displays the Plus,® NYCE,® or Interlink® logo.
The Southern Bank Mobile App provides an additional layer of security and allows you to control your card from your phone.
The Southern Bank Debit Card is more powerful and more secure than ever! You can use it just about anywhere, anytime, online and in person AND you can turn it on or off simply by tapping your smart phone. This extra peace of mind is just one of the many benefits of our mobile banking app. It's now easier than ever to pay bills, check balances, transfer funds, and make deposits.
How to Use Your New Card
When completing your purchase at a chip-friendly terminal, insert your card into the terminal slot and wait for the chip to process. If the terminal is not chip friendly, you will swipe as usual. Simple!
Visa® Platinum Credit Card
The Southern Bank Visa Platinum Credit Card offers competitive rates with a wide range of valuable features, safety benefits, and the option to earn rewards.
Purchase APR1 of 16.24% – 27.24%, based on your creditworthiness
No annual fee
Earn rewards with optional enrollment in BankMiles®2
Cell phone protection3 when you pay your monthly cell phone bill with your eligible Southern Bank Visa Platinum Credit Card
Instant cash advances at any ATM (PIN required)
Set up recurring bills to be paid automatically each month using your Visa card4
Travel and Emergency Assistance Services3
Auto Rental Collision Damage Waiver3
Replacement of lost or stolen cards and zero liability for promptly reported fraud
Exclusive Visa discounts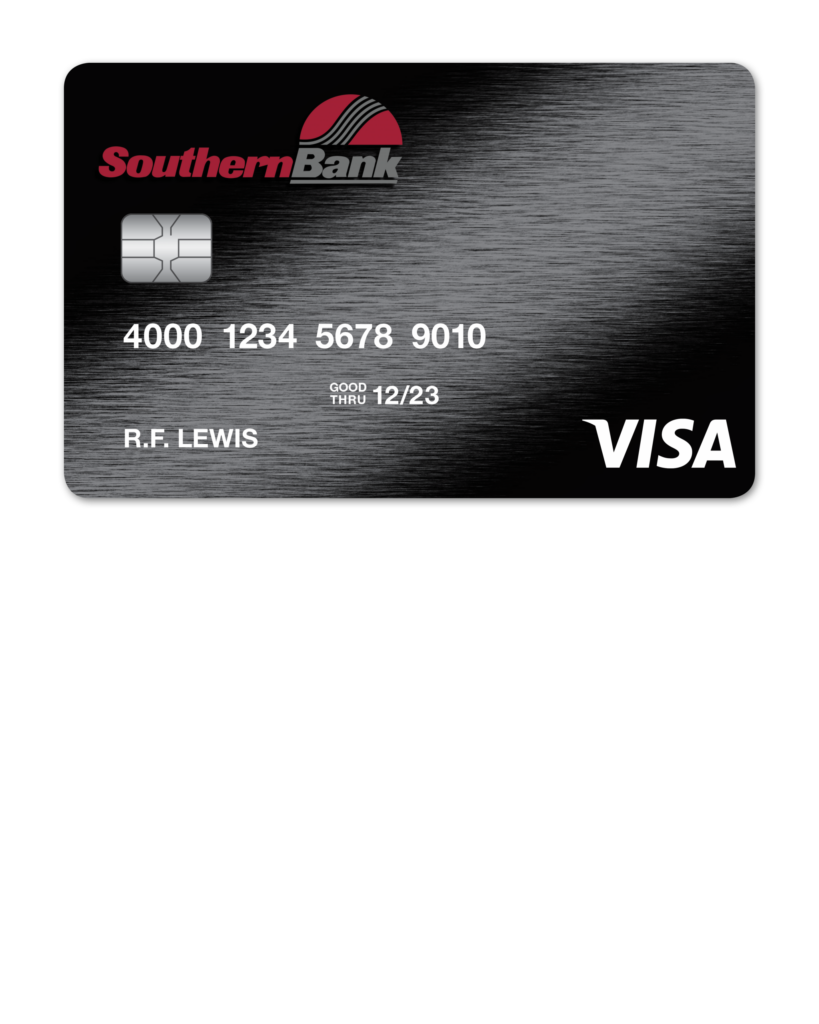 From travel, shopping and dining to merchandise and more, enroll in BankMiles and use your Southern Bank Visa® Credit Card to earn points and redeem them for outstanding rewards.
Normal credit approval applies.
APR (Annual Percentage Rate) – The Prime Rate used to determine your APR is the Prime Rate as published in The Wall Street Journal on the last business day of the preceding calendar month. The current Prime Rate as of 07/31/2023 is 8.50% and may vary. The transaction fee for cash advances is $5 or 3% of the amount of the cash advance, whichever is greater. The transaction fee for foreign transactions is 2% of each transaction after conversion to U.S. dollars.
Optional BankMiles membership requires an annual fee of $50 which will be charged to your Southern Bank credit card upon enrollment. At that time, 2,500 bonus points will be credited to your BankMiles account.
Cellular Telephone Protection, Travel and Emergency Assistance Services and Auto Rental Collision Damage Waiver provided by Visa®. Certain terms, conditions and exclusions apply. Please refer to your Visa Guide To Benefit for further details.
If using a credit card, you can avoid incurring finance charges on these monthly bills by paying the amount of the bill charged in full each month.